General Settings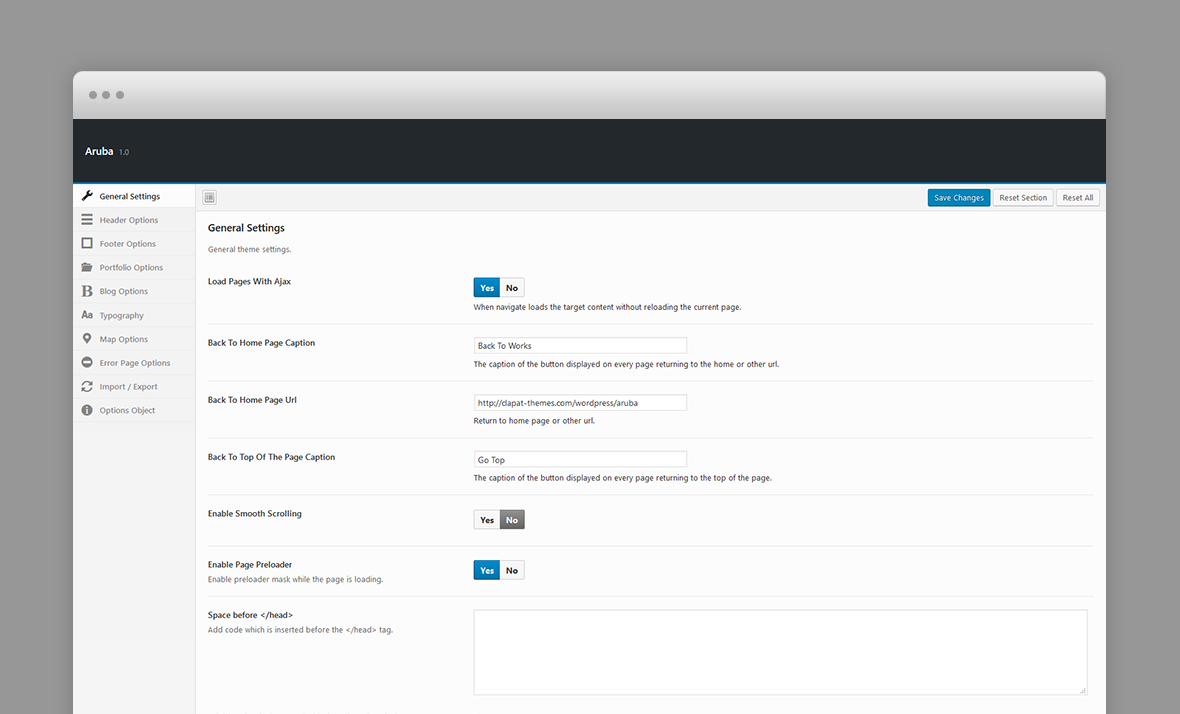 Load Pages With Ajax - When navigate loads the target content without reloading the current page.
Back To Home Page Caption - The caption of the button displayed on every page returning to the home or other url. Leave the field empty if you do not want this button shown.
Back To Home Page Url - Return to home page or other url.
Back To Top Of The Page Caption - The caption of the button displayed on every page returning to the top of the page.
Enable Smooth Scrolling - Enable or disable smooth vertical scrolling.
Enable Page Preloader - Enable preloader mask while the page is loading.
Space before Head - Custom code to be added before the end of header tag [/head]
---
Header Options
Select the logo displayed in the header.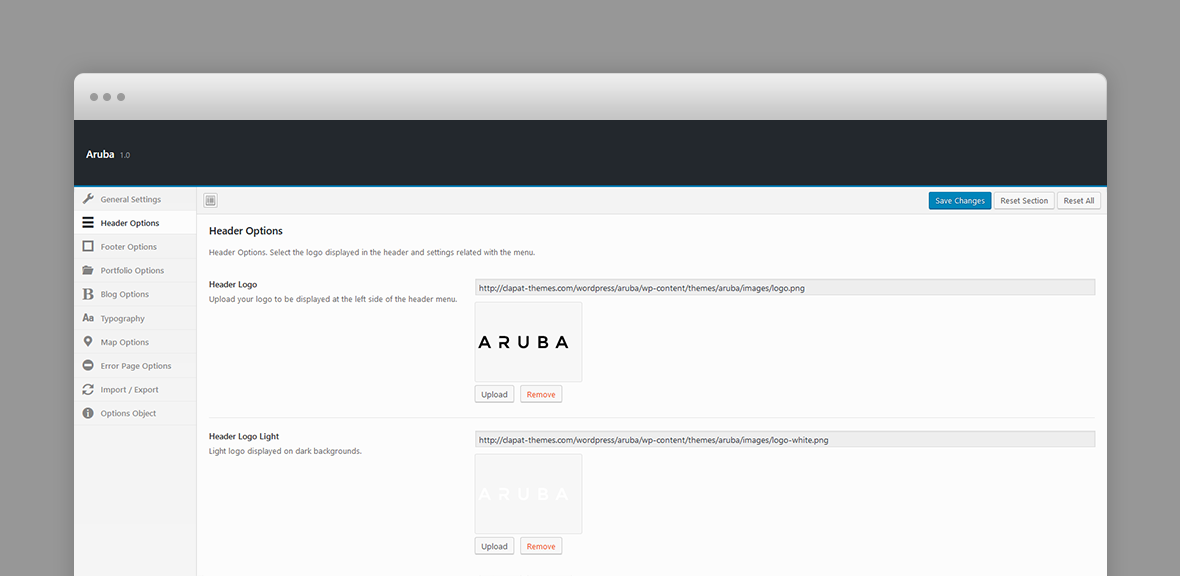 Header Logo – Upload your logo to be displayed at the left side of the header menu.
Header Logo Light – Light logo displayed on dark backgrounds.
---
Footer Options
Settings concerning the footer such as social links and copyright text.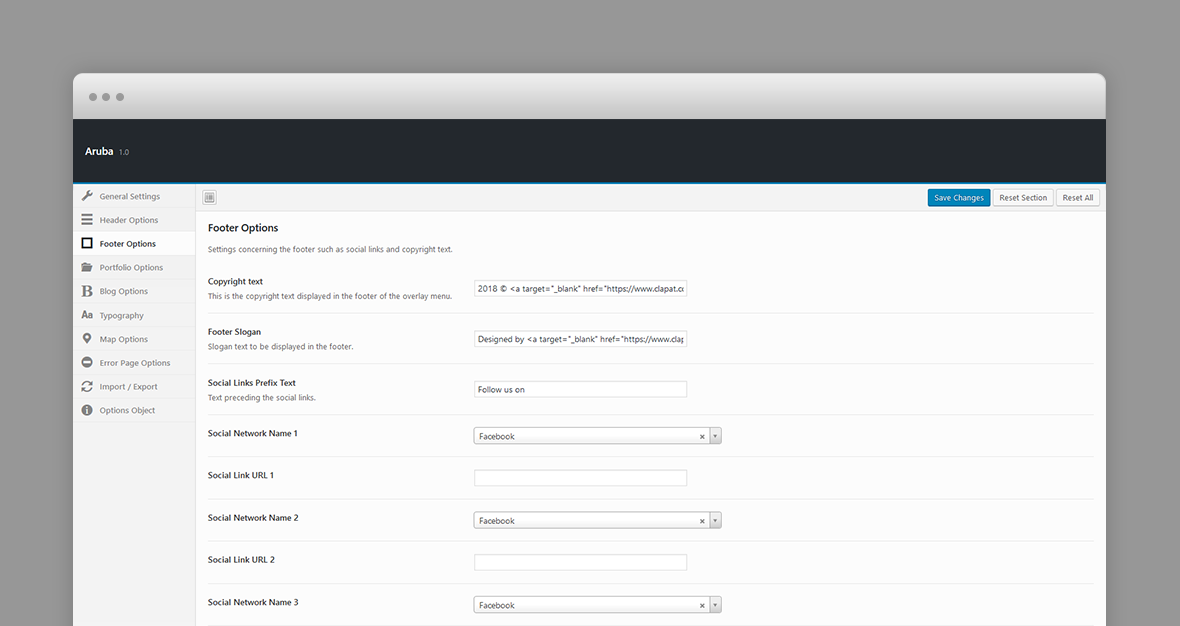 Copyright text - any html content (usually a copyright text) displayed in the copyright section.
Footer slogan - slogan text displayed next to copyright.
Social Links Prefix Text - you can enter here a text preceding the social links. For example "Follow us on"
Social Links - a set of social icons and URLs to the social or networking sites which are displayed in the footer
---
Portfolio Options
Settings concerning the portfolio section or portfolio pages.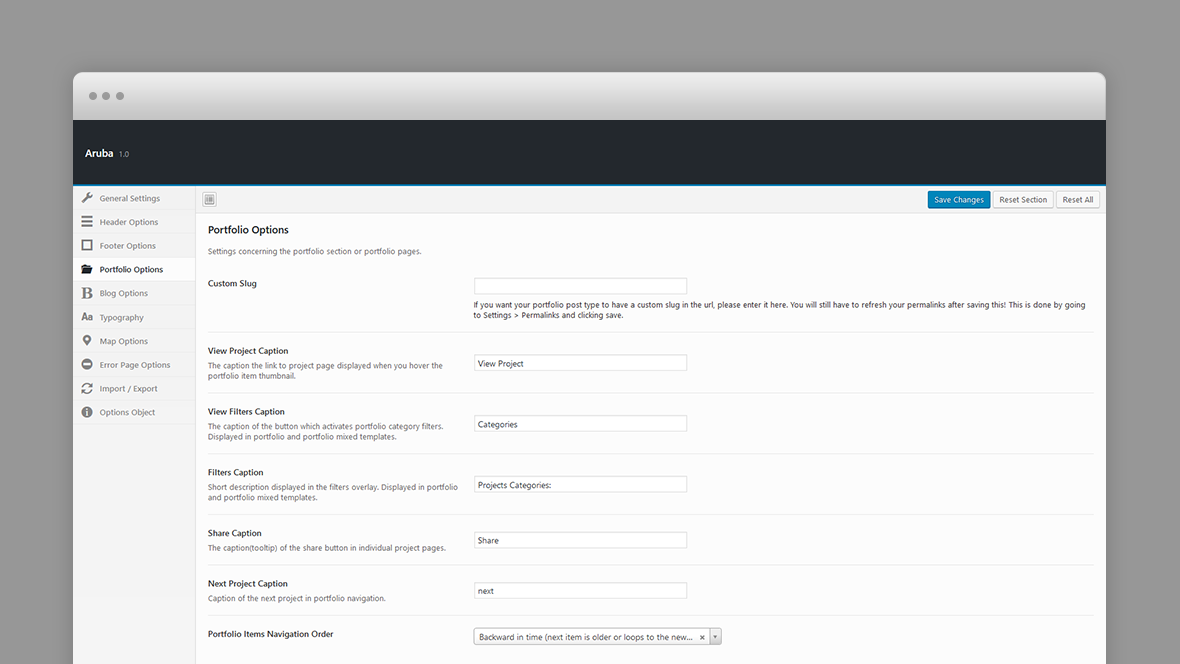 Custom slug - if you want your portfolio post type to have a custom slug in the url. You will still have to refresh your permalinks after saving this!
This is done by going to Settings » Permalinks and clicking
View Project Caption - the caption the link to project page displayed when you hover the portfolio item thumbnail.
View Filters Caption - the caption of the button which activates portfolio category filters. Displayed in portfolio and portfolio mixed templates.
Filters Caption - short description displayed in the filters overlay. Displayed in portfolio and portfolio mixed templates.
Share Caption - the caption(tooltip) of the share button in individual project pages.
Next Project Caption - caption of the next project navigation.
Portfolio Items Navigation Order - chronological direction in which portfolio navigation moves forward.
---
Blog Options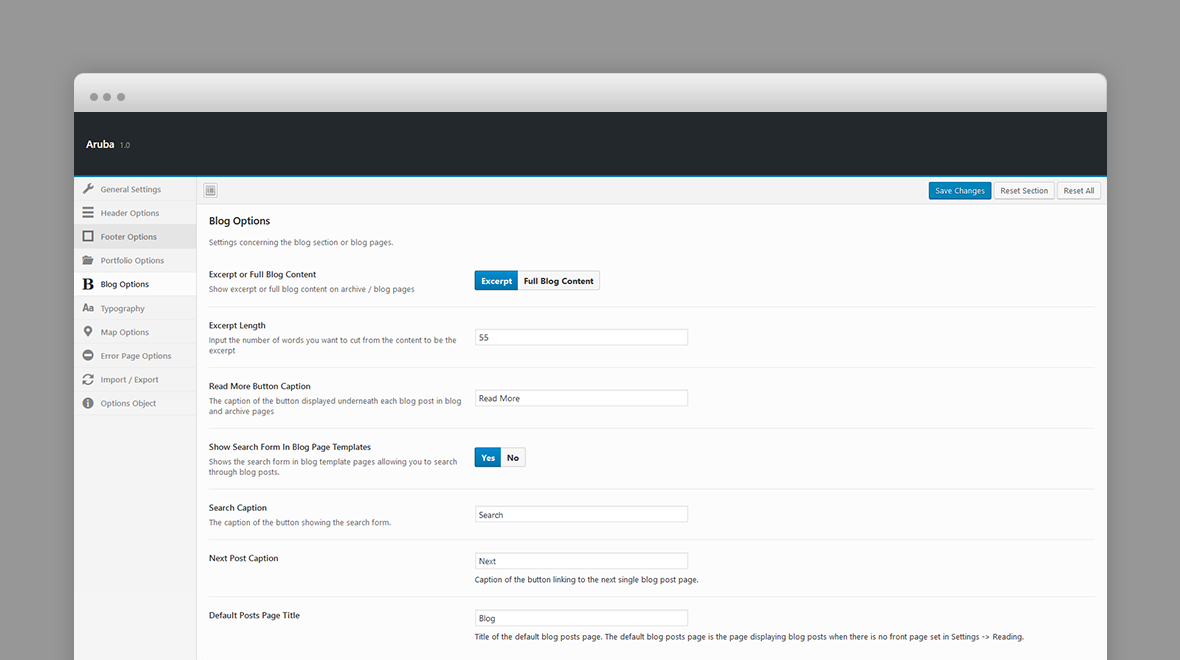 Excerpt or Full Blog Content - Show excerpt or full blog content on archive / blog pages.
Excerpt Length - input the number of words you want to cut from the content to be the excerpt.
Read More Button Caption - the caption of the button displayed underneath each blog post in blog and archive pages.
Show Search Form In Blog Pages – Shows the search form in blog template pages allowing you to search through blog posts.
Next Post Caption - caption of the bottom navigation button linking to the next single blog post page.
Default Posts Page Title – Title of the default blog posts page. The default blog posts page is the page displaying blog posts when there is no front page set in Settings » Reading.
---
Typography Options
Aruba comes with Google font library

Body Font - font size, line height, font weight
Headings Font - H1, H2, H3, ... and other title elements
---
Map Options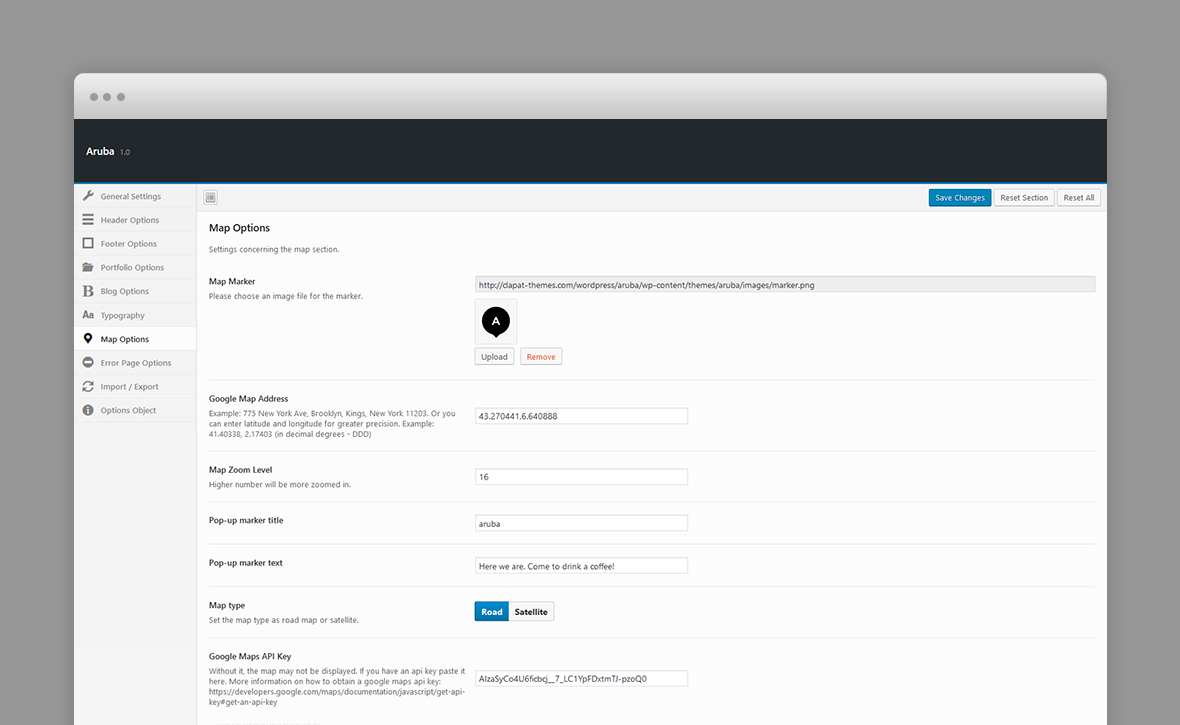 ---
Error Page Options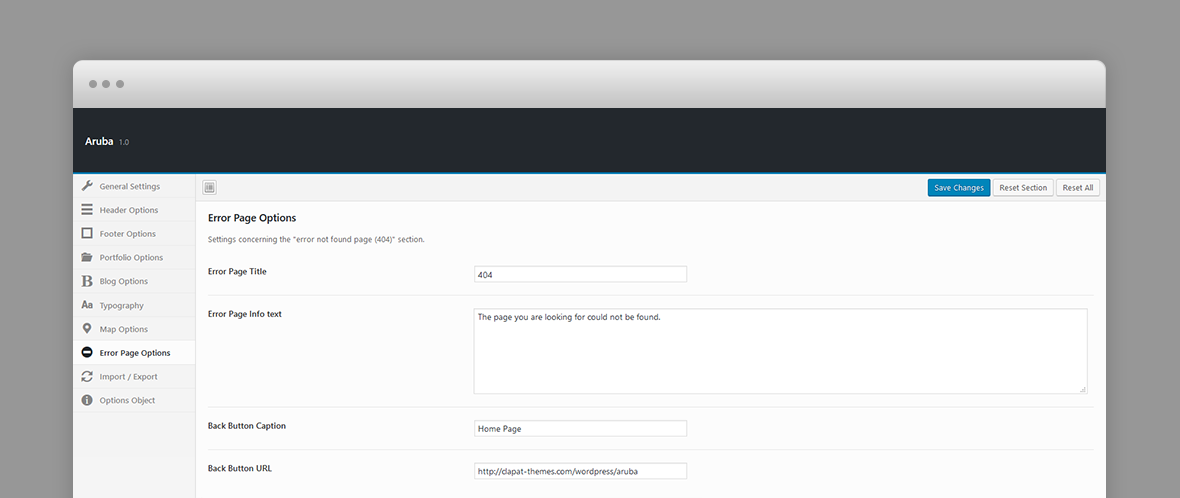 The title displayed in the error (404) page
Error Message
Back Button caption - the message displayed with the 'Back to website' button.
Back Button URL - url of the home website.
---
Import/Export Options
Section helping you with backup options

Imports, saves or restores your theme options
Import or export theme options from text, file or url